A lot has been happening in the entertainment world as of now. The "Barbenheimer" phenomenon has taken social media by storm as the two movies' release nears. Meanwhile, Marvel Studios' work on the (third) multiverse-breaking Deadpool 3 has been completed. As for DC, My Adventures With Superman's first two episodes have been released on Max to high praises. There's a lot to celebrate and a lot to dive into, so let's take a look at what's been happening this week.
Here's your weekly Entertainment News Recap with the top five stories you might have missed this week!
'Barbie' Movie Map Troubles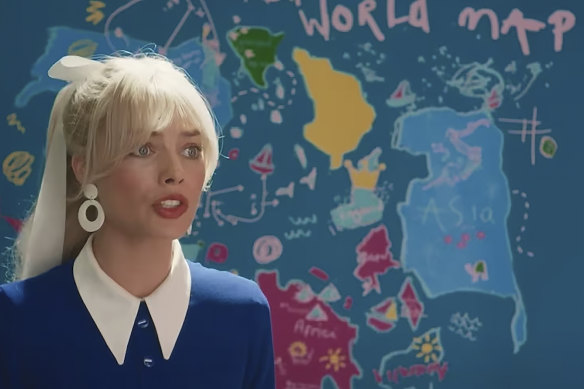 (Variety) – Filipino authorities are examining Greta Gertwig's 'Barbie' movie. The Philippines Senator said if the invalidated 9-dash line is depicted in the movie then it's the Movie and Television Review and Classification Board (MTRCB) decision to ban it because it diminishes Phillippine sovereignty. Vietnam banned the movie in its country for the same reasons. 'Barbie' opens in U.S. theaters on July 21st.
Brad Pitt F1 Movie Starts Filming But Officials Are Worried About Protesters
(AP) – Apple Original Films' Formula 1 movie starring Brad Pitt has begun filming. F1 is welcoming Pitt for a weekend of filming around the British Grand Prix but they're worried about climate activists. Six activists from the Just Stop Oil group ran onto the track at last year's Grand Prix and they're continuing to make their voices heard this year. Three protesters were arrested at Wimbledon this week after interrupting matches.
Michael Imperioli Says He's Banning Bigots From Watching His Shows
(THR) – 'The Sopranos' actor Michael Imperioli bans bigots and homophobes from watching any show or movie he's been in. This week, The Supreme Court sided with a Colorado web designer who refused to make a wedding website for same-sex marriages. In response, Imperioli said on social media "hate and ignorance is not a legitimate point of view," and "America is becoming dumber by the minute."
Daniel Radcliffe Will Not Be Returning To 'Harry Potter' Reboot
(Variety) – Daniel Radcliffe will not make a cameo in the new Warner Bros. Discovery 'Harry Potter' reboot. In an interview with ComicBook Radcliffe said he understands they're trying to start fresh and he's not seeking a cameo. The actor wishes the new cast all the luck and he's very excited to pass the torch to a new generation.
Tom Cruise Wants To Keep Making 'Mission Impossible' Movies Until He's 80
(Variety) – Tom Cruise is taking inspiration from Harrison Ford and wants to continue making 'Mission Impossible" movies until he's 80. Cruise turned 61-years-old on July 3rd and called Ford a legend at the Australian premiere of "Mission: Impossible – Dead Reckoning Part One." The action movie opens in theaters on July 12th.