This piece was written during the 2023 WGA and SAG-AFTRA strikes. Without the labor of the writers and actors currently on strike, the movie being covered here wouldn't exist.
Greta Gerwig has crafted an extraordinarily entertaining and empowering piece with Barbie – a movie sure to sweep many awards. It triumphs on story and heart while delivering on laughs and fun. Margot Robbie and Ryan Gosling are incredible and all eyes will be on them.
Margot Robbie is truly a sensation here as Barbie, whose performance as Harley Quinn is outdone here on an even bigger scale. She's fantastic from the start to the finish of the movie and delivered every line and mannerism to utter perfection. In addition, Ryan Gosling is electric as Ken and delivers an unforgettable comedic performance that will have you laughing. Their chemistry together is dynamite and impossible not to love, they are equally exceptional.
Margot Robbie and Ryan Gosling aren't the only Barbie and Ken in this film. As we've seen from the movies marketing, there are a lot of Barbies and Kens that wonderfully breathe life into the already fantastic world-building. Each one is played by a plethora of very recognizable talents such as Emma Mackey, Nicola Coughlan, Kate McKinnon, Issa Rae, Dua Lipa, Emerald Fennell, Sharon Rooney, Ncuti Gatwa, Simu Liu, Kingsley Ben-Adir, Scott Evans, and John Cena. Admittedly, some have much more screentime and a presence in the movie than others do, but it was great to see everyone in their wild hairstyles and costumes acting in their own unique way. Everyone, whether their role was big or small, did an impressive job at feeling seen and heard.
Not playing a Ken, Barbie nor Human or robot is Michael Cera, who takes on the role of Alan. There's only one Alan, just him. A singular Alan, which the movie loves to poke jabs at! He did a really sweet and loveable job.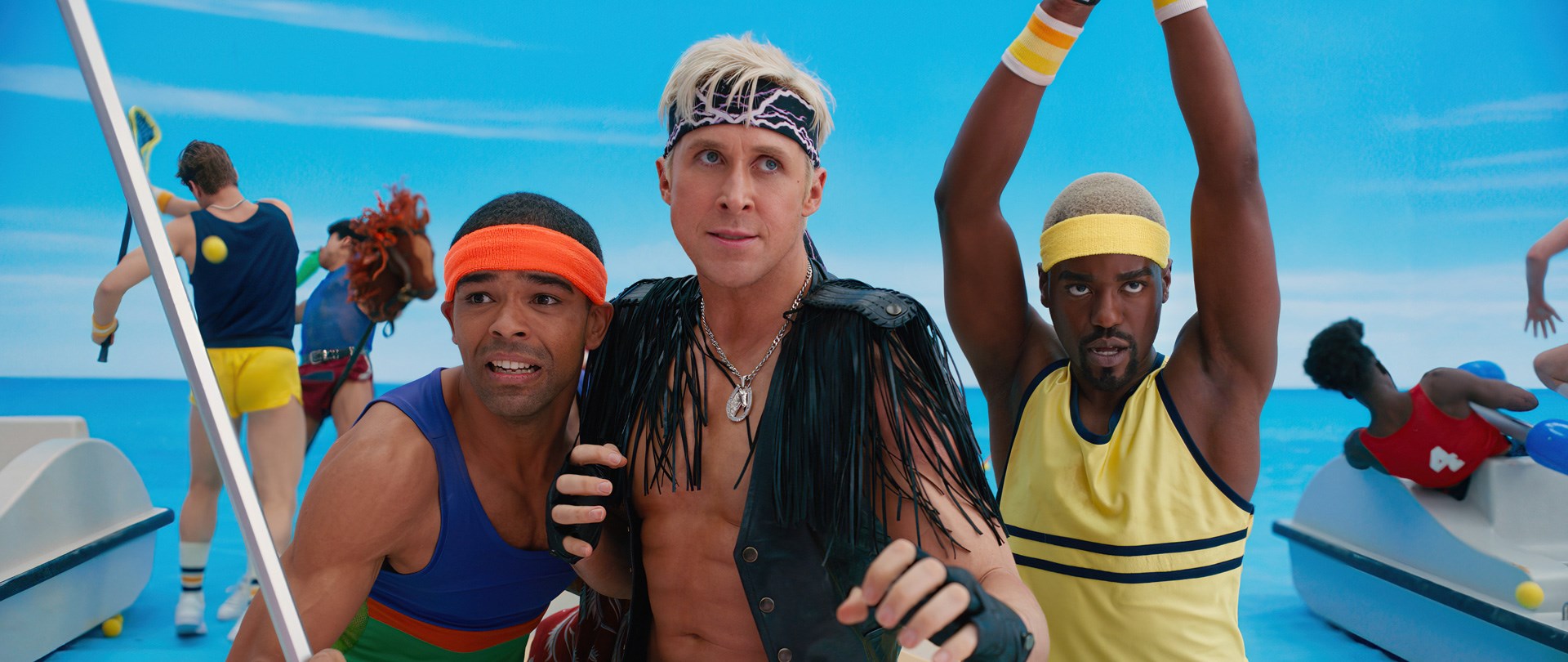 Additionally to the film we have our main human leads of, Sasha, played wonderfully by Ariana Greenblatt, Gloria, played by America Ferrera and the amazing and insanely talented Will Ferrel portraying the CEO of Mattel. All are, to no surprise, absolute fantastic in the film and have a large and meaningful presence in its story. America Ferrera specifically was endearing and showstopping on more than a handful of moments throughout Barbie. Though, there's one specific moment where Ferrera beautifully performs a very touching monologue that was beautifully heartwarming.
Lucy Bevan and Allison Jones, the movie's casting directors, deserve to be named and honored for their marvelous job at bringing all of these delightful characters to the screen.
At the heart of Barbie's core is an evaluation of life, death, humanity and what it means to be who we are or who we aren't just yet. It's about fate, destiny and self discovery. All of this is done one way or another throughout the journey of the characters and their moments in the film. Overall, it's all done to such a high regard and level. While the commentary may seem quite punchy or whimsical at times, it's actually very clever and moving in only a way that a director like Greta Gerwig could pull off.
Alongside Barbie's extremely self aware and cartoonishly silly humor and world, It does what few large movies find themselves successfully able to do nowadays: it actually has something to say and something it wants you to listen and take away with. That is something I heavily respected and appreciated about this movie and experience. It is going to inspire so many in each persons own unique and individual way.
To summarize it – Barbie is flawlessly fantastic and a vibrant delight with incredibly casting and performances that manages to go above and beyond all expectations to tap all the bases – it's funny, heartfelt, charming, comforting and wonderful but powerful, moving and inspiring. It's so very greatly crafted together into a delicious serving of cinema that we could all do with and appreciate right now.
★★★★★
Barbie releases on July 21 in theaters.