With Warner Bros. heading to San Diego Comic Con this weekend alongside the suspected appearance of Henry Cavill at the Hall H panel, fans are both excited (and some even being worried) to see what the DCEU has to offer in the coming years. Though there has been major controversy regarding some of its stars in recent months, Warner Bros. and DC Comics are going full steam ahead with unveiling future movies and shows to the fans, restarting their streak of their Comic Con attendances following their own event, 'DC Fandome.' So far, fans and general audiences anxiously wait the release of The Flash, a movie said following Barry Allen's (Ezra Miller) journey to save the DCEU's multiverse with the help of a returning Batman (Michael Keaton) from another universe similarly to DC Comics' Flashpoint series.
With today marking the ten year anniversary of Christopher Nolan's The Dark Knight Rises, here's a special list of what Batman movies to watch to honor the live action Batmen of DC and the future of what Warner Bros. has to offer.
10. Batman & Robin (1997)
I swear I've only watched one clip involving Mister Freeze's (Arnold Schwarzenegger) museum heist (and most of his scenes from this movie) and I can already tell that this film took Batman Forever's comedy and campiness to a HUGE level. Batman (George Clooney), and his Batfamily, feel like they were written with the dialogue of The Avengers and the brightness of it all makes the movie feel wacky and almost darkly comedic like Killer Klowns From Outer Space. I can't say that this movie does Batman justice, but I can say that this film felt actually different for once (even though I could tell it was different to be different.) Overall, a really campy and cheesy Batman movie that embraces its in-your-face comedy (great for late night viewing!)
9. Batman Forever (1995)
While, initially, I haven't seen a lot of this film, I've come around to this film and felt like the studio began to reduce what we saw of Batman before in this collection of movies. The comedy between Two-Face (Tommy Lee Jones) and Riddler (Jim Carrey) was slightly more humorous than that of Batman & Robin and I enjoy their little duo throughout the film. However, Kilmer's Batman brought it down for me since I couldn't feel the same way I felt with Keaton's Batman (I don't know why, but doesn't Kilmer's Bruce feel like Eckhart's Harvey?), though the action was definitely upped back to Batman levels and felt like a thrill ride. Overall, an okay film to watch if you want something in between Batman and Batman & Robin: still entertaining, but doesn't have that passionate drive from the former.
8. Batman Returns (1992)
I've only seen a little bit of this film when I was younger and Danny DeVito's Penguin was a big standout to me, though on rewatch, it definitely feels like this film took Keaton's Batman to a darker place. The 'goth' in Gotham actually shows out in this film, dampening the slight lightheartedness from Batman into straight terror. The Penguin almost feels like he could be straight out of The Dark Knight trilogy, though I will have to say that Catwoman (Michelle Pfeiffer) was definitely on the verge of embracing insanity. Keaton is still as great as ever in this film and definitely dipped into being more serious this time around, which was good for me. Overall, an almost terrifying film to watch that definitely had Burton's influence over it.
7. Batman V. Superman: Dawn of Justice (2016)
Though this film felt more like a sequel to Man of Steel, it established this universe's version of Batman through Ben Affleck and used the tone of Bale's Batman/Bruce Wayne to influence this figure. The beginning scene and the (obvious) warehouse action scenes show the strength and power of Affleck's Batman and the subtle-ness and hintings of his Bruce Wayne mostly capture the over-confidence of this persona. While the meaning and purpose of his confrontation with Henry Cavill's Superman didn't click with me at first, I've since come to understand and (mostly) come to terms with the direction the story here was going with Lex Luthor (Jesse Eisenberg) manipulating both of them to get his "Doomsday" weapon. In the end, this is a pretty good film if you're willing to look a little bit deeper into the writing of this movie.
6. The Dark Knight Rises (2012)
Out of the three films in the Dark Knight trilogy, Dark Knight Rises definitely felt more of Bruce Wayne going back to his roots in Batman Begins than the pumped-up action fans were accustomed to. Though the take on Bane was unique to say the least, it definitely did a good job of remaking the characters of Bruce Wayne and Batman into something greater than himself. The presence of Harvey Dent is felt throughout this entire film, from its impact on the story to its main characters as the impending war between Bane and Gotham City essentially breaks down Batman (both literal and figuratively.) A good film, though if you want to see Batman being Batman, I suggest re-watching Batman Begins and The Dark Knight.
5. Batman Begins (2005)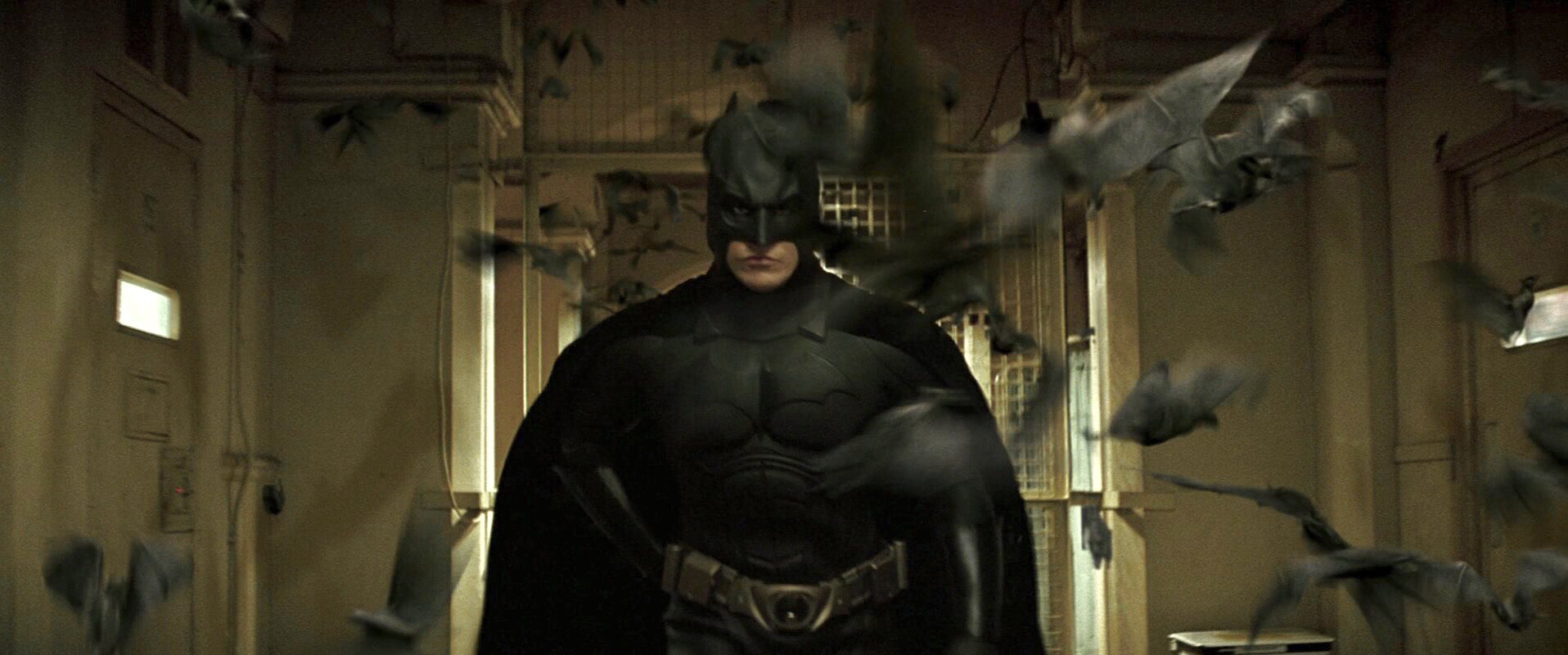 While most other Batman films take a look at the Batman of modern days, this film looks back on Bruce Wayne's origins into becoming Batman following his time with the League of Assassins. Bale perfectly blends the suspense and thrill of Batman with the weaknesses of Bruce Wayne as it's felt throughout this movie through his interactions with both his enemies and friends. Its first act helps develop Bruce Wayne into mastering the art of Batman with its second and third building on to that through the threats of Scarecrow (Cillian Murphy), the mob, and a looming Ra's al Ghul (Liam Neeson) and it keeps the intensity going in most of its scenes. A great film to start with if you're looking for a refresher from the previous Batman films that came before this more grounded period.
4. Batman (1989)
To know and understand Keaton's Batman, you need to begin with this film. Even if Batman & Robin don't do Keaton's Batman justice, this film brought out the classic take of the character. The embracing campiness of Burton's direction definitely had an impact on this take of Batman even if the personalities of Batman and Bruce Wayne felt a bit generic-ly blended at times. However, the scenes with him and Jack Nicholson's Joker felt on-brand for what Batman in comics was and had that classic comic excitement and thrill with the action scenes in between. Comedically menacing and dramatic with its music, this film is definitely great for the fans who just want to go back to the whip-whaps of 80s-90s Batman.
3. Zack Snyder's Justice League (2021)
I know what you might be thinking about placing this movie this high up, but you got to believe me when Ben Affleck absolutely puts his all in this over what we've seen from Joss Whedon's Justice League. Even though he's not your typical Batman, this version of the character feels like it puts its own twist using Injustice as well as the Arkham game collections. His interactions with the other League members feel in tone with his character from Batman V. Superman and consistently balances the serious grittiness of his Batman with that subtle comedy and confidence of his Bruce Wayne. This take is a special take to me that I enjoyed throughout the movie and if he wasn't okay for you, that's alright!
2. The Dark Knight (2008)
The Dark Knight had to be one of the more focused and thrilling live-action Batman experiences even if Christian Bale's Batman hit the tone of being in between threatening and a little bit comedic. Heath Ledger's Joker was also VERY great in this film, taking his comedic psychopathic personality to another level all the while making his plan more secretive as he manipulates everyone into his plans. It also does a good job with setting up Harvey Dent (Aaron Eckhart) into the villain we know as Two-Face as a minor storyline within the main story of Joker's plan to make Batman into a monster. However, Rachel (Maggie Gyllenhaal) did feel a bit different in this film (besides from her casting) and I felt like she was a bit wasted for what we originally got from Batman Begins.
1. The Batman (2022)
Ok, maybe it's (mostly) recency bias, but this film had to be one of the more better, if not best, takes that we've seen of the character in modern times. Robert Pattinson's performance in this movie really had me stoked. Besides this, the choreography and action scenes felt intense with each blow actually being felt as this Batman felt really powerful, yet somehow, a little bit hesitant. Catwoman (Zoë Kravitz), Jim Gordon (Jeffrey Wright) and Alfred Pennyworth (Andy Serkis) were also really good for their roles and provided more of that doubt and influence needed to balance Pattinson's personality, though Riddler (Paul Dano) definitely took his character on a whole different level that felt new to Riddler's character. Overall, pretty good flick to watch in the future.
While some of these films may not be for everyone, the character of Batman is a unique one and with each and every take that comes with each movie, hardcore fans and general audiences have come around to enjoy Batman for his personality and power within the greater DC Comics universe. Whether you might enjoy these films or not, Batman, overall, continues to be an influential figure within comics and proves to be one of the most popular figures today. Hopefully, Keaton's Batman in The Flash can continue a line of these special takes and inspire new stories to come.