This piece was written during the 2023 WGA and SAG-AFTRA strikes. Without the labor of the writers and actors currently on strike, the series being covered here wouldn't exist.
Continuing on from Season 1, Nick and Charlie navigate their new relationship; Tara and Darcy face unforeseen challenges and Tao and Elle work out if they can ever be more than just friends and with exams on the horizon. In addition to a school trip to Paris and a prom to plan, the gang has a lot to juggle as they journey through the next stages of life: love and friendship and equality like the first season. There isn't one particular element that makes Heartstopper as rich and loveable as it is. Instead, it's an amalgamation of different things with the primary one that comes to mind being its characters who are expanded on in so many different and big ways following their previous chapter.
Nick and Charlie are back, flirtatious  happy as ever with Kit Connor and Joe Locke once again delivering power and authenticity to their performances. Heartstopper's exploration and head-on execution of coming out was exceptionally well done. It was gripping, emotional but beautiful. As for Charlie, this season tackles his traumatic past and explores how it continues to drastically and dangerously affect him along with the tolls it can cause like potential eating disorders and depression.
As a couple, the series continues to develop them further and the challengers both run into. It adds depth and complexity to the real life struggles a lot, specifically younger couples, might face and do so in a great continuation of them and their stories. But outside of the challenges both face respectively and together. There are still a great plethora of heartwarming, adorable & delightfully cheerful moments that fans of the show and romance, are going to go WILD for.
Bar Nick and Charlie, some huge highlights this season were Yasmin Finney and Will Gao as Tao and El. They were splendid and got to showcase a lot of what they have and can give to the show and characters more so than they were able to last time where we started to realize that between one another some feelings were beginning to develop, Those feelings are heavily fleshed upon over the course of the season.While we wont reveal the outcome, I will say it was a very investing and engaging storyline to witness unfold. Additionally, the humor shared between the two close friends had me, as a huge fan of the series, smiling at every frame and cut.
Equally as impressive as Tao and El was Isaac's story, who took a bigger share of the spotlight here than he did previously. Toby Donovan did a really nice job at fulfilling the shoes the script and direction led Isaac on throughout this season. If you've seen Alice Oseman's comments on his character for this season, you'll know it's in regards to his sexuality and more specifically his asexuality. How they handled that was very delicately done and I know a lot of people will be appreciative of that.
Finally in the conversation of returning characters we have Darcy, Tara, Imogen and Ben. Starting with Darcy and Tara, who were excellent, we got to see a lot more of them as a couple as well as individuals and how their lives both differ for good or bad, better or worse. I am very curious to see what began in this season for them to continue going forward in a future season. Corinna Brown and Kizzy Edgell did an credible job at delivering the expansion of their characters, just as the script of course did at writing that for them.
As for Imogen and Ben, both did a truly tremendous job this season. Imogen was incredible, adorable, funny and powerful when the scenes called for it and was absolutely beautiful in her many outfits the show makes for her. Sebastian Croft's Ben, on the other hand, was put onto a really intriguing path where he gets repercussions for his actions. He takes up, as you would imagine, a smaller role than he did previously, but the script carefully makes sure he gets his due.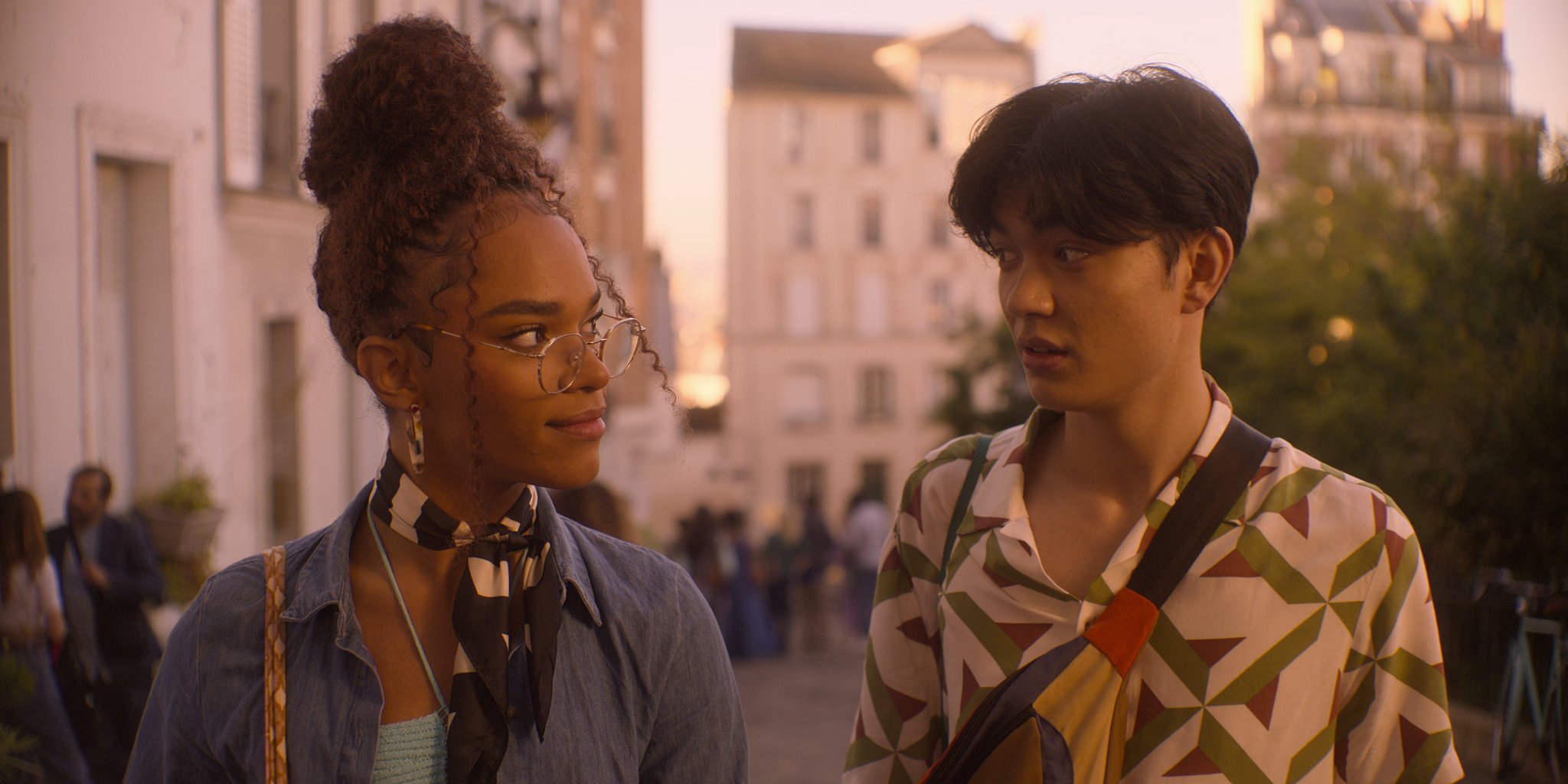 This season also once again triumphs in its technical department. The direction by Euros Lynn and the writing from Alice Oseman as is great right across the board. The music is superb, the lighting greatly reflects the tone and atmosphere of our characters or scenes. It captures the energy of the first season: fantastic at elevating the visual look and narrative through its comic-inspired animations that appear in certain sequences.
As a whole, this season feels grander: it looks richer in how it's shot, how the scenes are conveyed visually and how each individual element is used within them. It's clear the talent behind the film and the cast on screen had a lot more budget, set pieces and props to play with here allowing this season to expands its story and characters as well as its overall production value. 
Season 2 takes a step further in expanding its universe, introducing new dimensions and enhancing the overall experience. The audience will be thrilled to discover a deeper exploration of the characters' personal growth and maturity, creating a more profound and enlightening narrative. While the tone may be darker and more serious, it remains uplifting and never loses the warmth and familiarity that fans have come to adore. Season 2 of Heartstopper not only entertains but also sparks meaningful conversations about important topics that are often overlooked. Just as the first season captured hearts with its message of self-discovery and love, this season emphasizes the significance of self-care and looking out for those we hold dear in both platonic and romantic relationships. It serves as a beautiful reminder of our shared humanity and the power of kindness.
Taking it back to characters, Season Two brings in some new & if you've read the books, recognizable characters. Starting with David Nelson, someone you can't help but hate though they meet their match in Kit Connor's on-screen sister, Tori Spring played once again wonderfully by Jenny Walser. But to give credit where it is due, Jack Barton did a very likable job at making David so unlikeable. And he bounced off Kit Connor's Nick very well, the brotherly vibe was present & so was the discomfort between one another.
Keeping with the Nelson family talk, Nick's pretty unreliable by choice or nots, Dad makes his debut to the show played by Call My Agent actor Thibault de Montalembert – Alike the rest of the cast whether that be returning or new, he did a nice job here for the admittedly small role that he had.
To wrap up our talk on all the great old and new additions to the show, we have Mr. Farouk (Nima Taleghani). He was very funny with his sternness as well as sweet with his own little romance story that he embarks on. He shares his scenes often with Mr Ajayi (Fisayo Akinade) who was sweet and their scenes were really wholesome and chaotic, as you'd expect from two teachers attempting to control a classroom or two of Grade 11 students. I really enjoyed their presence as well as Bradley Riches and James Mcewan. I hope both return next season and I am quite confident that they will.
Talking of moments, the show makes some pretty great ones starting with probably my favorite, The Paris Trip. It was amazing, raking a larger presence over the season than for some reason I had thought. It looked fabulous, from its technical aspects to the feelings it got from me.
Heartstopper has many heartwarming moments between the characters. It is refreshing to see them enjoying each other's company. These moments bring a sense of comfort and joy to viewers. While they may not always contribute to the plot, they allow us to appreciate the characters and take a breath. I am looking forward to the next season with optimism and excitement.
To conclude, Heartstopper continues to be the loveliest show around and Season 2 does not disappoint. While darker & more mature at times, it's as nuanced, important, captivating, lovable and purifying as I found last season to be.
★★★★
Heartstopper returns on Netflix on August 3.